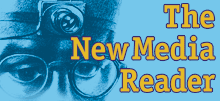 About the Reader
The New Media Reader
edited by Noah Wardrip-Fruin and Nick Montfort
book design by Michael Crumpton
isbn: 0262232278
The new media field has been developing for more than 50 years. This reader collects the texts, videos, and computer programs—many of them now almost impossible to find—that chronicle the history and form the foundation of this still-emerging field. General introductions by Janet H. Murray (author of Hamlet on the Holodeck) and Lev Manovich (author of The Language of New Media), along with short introductions to each of the selections, place the works in their historical context and explain their significance.
The texts are from computer scientists, artists, architects, literary writers, interface designers, cultural critics, and individuals working across disciplines. They were originally published between World War II (when digital computing, cybernetic feedback, and early notions of hypertext and the Internet first appeared) and the emergence of the World Wide Web (when these concepts entered the mainstream of public life).

The NMR book.
The CD accompanying the book contains examples of early games, digital art, independent literary efforts, software created at universities, and home-computer commercial software. Also on the CD is digitized video, documenting new media programs and artwork for which no operational version exists.
This Web site serves to provide an introduction to the New Media Reader for those who don't have a copy of it, although there are also resources provided here for those who have the book and CD: these include sample syllabi and an errata list. Also presented here are the tables of contents for the book and the CD, online excerpts from each (including their prefaces and introductions), and updates on recent news about and reviews of the project.
We describe the purpose of this book and CD in greater detail in "The New Media Reader, A User's Manual" (the book's preface) and in the CD's preface.
The NMR project would not have been possible without the support of the New York University Center for Advanced Technology. This website was created with generous help from Brion Moss and Robb Bifano.
The advisory group for The New Media Reader is: Espen Aarseth, Mark Bernstein, Chris Bregler, Edward Fox, Cynthia Goodman, Carolyn Guyer, Terry Harpold, N. Katherine Hayles, Carol Hutchins, Henry Jenkins, Carl Machover, Stuart Moulthrop, Christiane Paul, Ken Perlin, Edward A. Shanken, Herman Tavani, Gregory Ulmer, and Adrianne Wortzel.
The Web site for The New Media Reader (824 pp. + CD-ROM)
Edited by Noah Wardrip-Fruin and Nick Montfort
Book design by Michael Crumpton
http://www.newmediareader.com